Hey, we get it. As a busy mom you don't have hours upon hours to spend creating the perfect cake for your kid's birthday party but that doesn't mean you don't want to. We've scoured the internet just for you to find easy solutions to take an ordinary cake and make it extraordinary in a few simple steps.
Use Fruity Pebbles as Funfetti
So you don't want your little one constantly eating sugary cereal for breakfast but it's their birthday party, so why not let them live a little and eat it on their cake? The classic Flintstones themed cereal Fruity Pebbles may be good in milk, but it's even better stuck to frosting on a cake. It gives a festive feeling to the normal vanilla frosting covered confection. You can use this simple trick with store bought or homemade cake to impress the other parents at your kid's birthday party.
Get all the details on how to make this great cake over at ButterLust.com.
Confetti Marshmallow Number Toppers
Candles in numbers shapes are fun but they're not edible, unless you're into that waxy kind of taste. The problem is, as we all know, if your little one is young enough, they like to put everything in arm's reach into their mouth. Why not have all the functionality of a number candle with the fun of a edible marshmallow? It's the perfect customizable and outside the box addition to any cake.
(Image Credit: Studio DIY)
Get all the details on how to make these perfectly fun and delicious toppers at StudioDIY.com.
The Bear Necessities
Have a son or daughter who is a fan of bears and has a sweet tooth? Why not decorate their birthday cake in a way that reflects those likes but doesn't take much effort on your part? This gummy bear decorated cake is simple yet sensational. Use a store bought cake and add your little gelatinous woodland friends or get ambitious and make a cake that has a colorful surprise on the inside. Whatever you decide to do, your child and their friends will love it!
(Image Credit: Steph at RaspberriCupcakes.com)
Get all the details for this fun creation at RaspberriCupcakes.com.
Alphabet Magnet Cake Toppers
We all remember those colorful alphabet and number magnets that used to adorn either mom's fridge or the boards at our elementary schools. While they're great for holding Johnny's latest drawing or learning how to spell, there is a new and unique way to use them. You guessed — most likely from the title of this section — they can be used as cake toppers. You can spell anything or make any age relatively easy and cheap.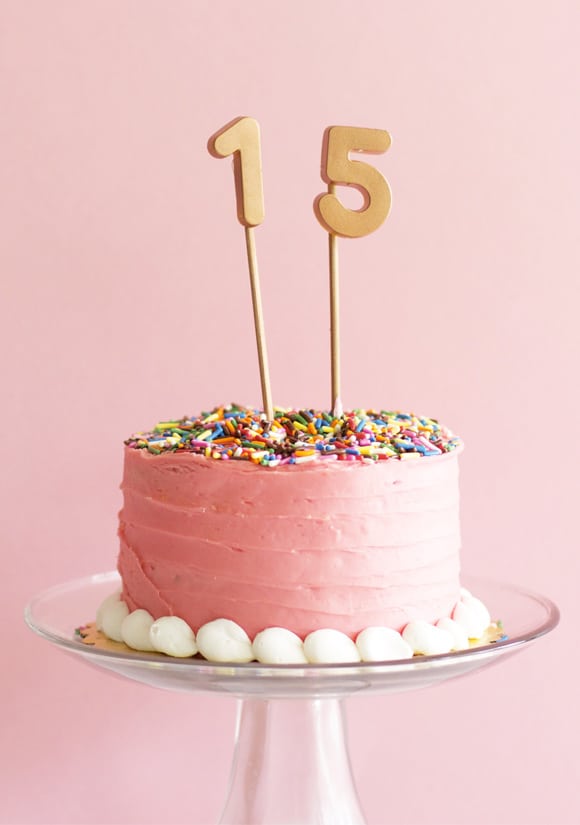 (Image Credit: Tori ThoughtfullySimple.com)
Learn the tips and tricks on this idea over at ThoughtfullySimple.com.
Strawberry

Fields

Roses Forever
Does your daughter love roses? Why not surprise her with edible ones on her birthday cake this year? These strawberry roses can be made with a few simple cuts of a knife and can go great on the top or along the bottom of any cake homemade or store bought. It's the perfect way to add a simple yet artistic touch to your child's birthday cake and will likely make you the envy of the other moms.
(Photo Credit: AshAndCrafts.com)
Get the simple step-by-step directions courtesy of AshAndCrafts.com.
"Simple DIY Decorating Ideas for Kids Birthday Cake"
was last updated
September 20th, 2019
by
Subscribe to the Blog
The Party Room