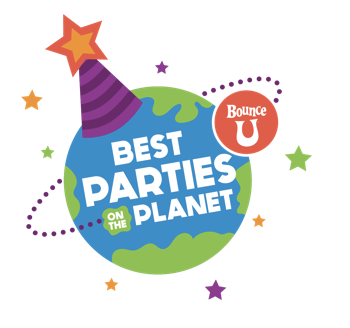 Best Kids Birthday Parties in Omaha, NE
Private Birthday Parties
Planning a child's birthday party can become stressful when you're trying to host the perfect party. Let us help take that weight off your shoulders by assisting you with the party planning, set up, clean up, and more. Our 100% private parties give you the opportunity to spend more time with your family during your child's special day, rather than worry about your duties as a host. Plus, your child will have the time of their life jumping around our indoor arenas with their friends!
FUN: Our indoor playground, jam-packed with awesome inflatables, is a fun place for kids.
EASY: We make kids birthday parties effortless for you so you can join in on the bounce house fun.
PRIVATE: Parties that come together, stay together, so you'll have the entire fun zone just for you!
Upcoming Events

Check Out Our Upcoming Events

BounceU of Omaha is the premier venue for the Best Parties on the Planet! We're conveniently located at the intersection of Q. Street and John Galt Boulevard, just west of 108th Street. We are in the southwest corner of the all-glass Empire Spectrum Complex. The store is approximately .5 miles east of I-80 and is accessible via L. Street to 108th Street. There are parking lot entrances on the east side (S. 111th St.) and west side (John Galt Blvd).

From Lincoln

Take I-80 to Omaha and exit on L. Street. Head east to 108th Street. Turn right on 108th Street, go south to Q. Street. Turn right on Q. Street and drive one block to S. 111th Street. Turn right then turn immediately left into complex parking lot. You can also access the west side parking lot from John Galt Blvd.
"Home 2"
was last updated
January 21st, 2020
by